By Mitch Wright, RWC, IACT, and Bob Bitterli, AIA, NCARB
An old tale goes that you can set out a small dish of beer to catch and rid your garden of snails, but you may attract local vagrants as well. What does this have to do with Building Envelope Science?
It was a large multi building apartment complex in central Florida. Only about 6 years old, and the owner wanted a new paint job to freshen up the buildings. It was a typical painting/sealants job to clean, prime, seal and paint. A minimum one primer and one finish coat using a high build water-based elastomeric paint system. A consultant was hired to develop the specifications and provide quality control and assurance. Bids were solicited, and a qualified painting contractor was selected. After a few months, the buildings were all painted and ready for turnover and final payment. All was fine, until, damage begins to appear!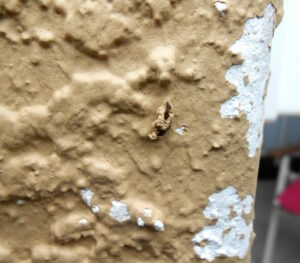 Damage Begins to Appear
Within a few months of completion, the property management noticed areas where paint was deteriorated or missing in areas of the wall surfaces. Spots, about a half dollar in size, were scattered about the wall surface in random locations. The spots indicated that the tan colored top coat was largely gone, leaving only the white primer exposed. It was isolated and primarily in the lower five to six feet of the exterior wall. Very minor areas of the damage occurred higher up, but always below the second floor accent band. It was a peculiar phenomenon. The most peculiar aspect of this case was that there were no paint chips on the ground below the damaged areas.
Where we saw paint spots were deteriorated or missing, we always noticed something extra. Small, dark, tube-shaped objects stuck to the surface of the wall. At times as many as ten to fifteen of these objects within a square foot area. They were stuck to the painted wall over perfectly painted surfaces. Many were curiously pigmented the same color as the paint. They were very small, so we pulled out our pocket microscopes and loops to get a closer look. Now, hold your breath.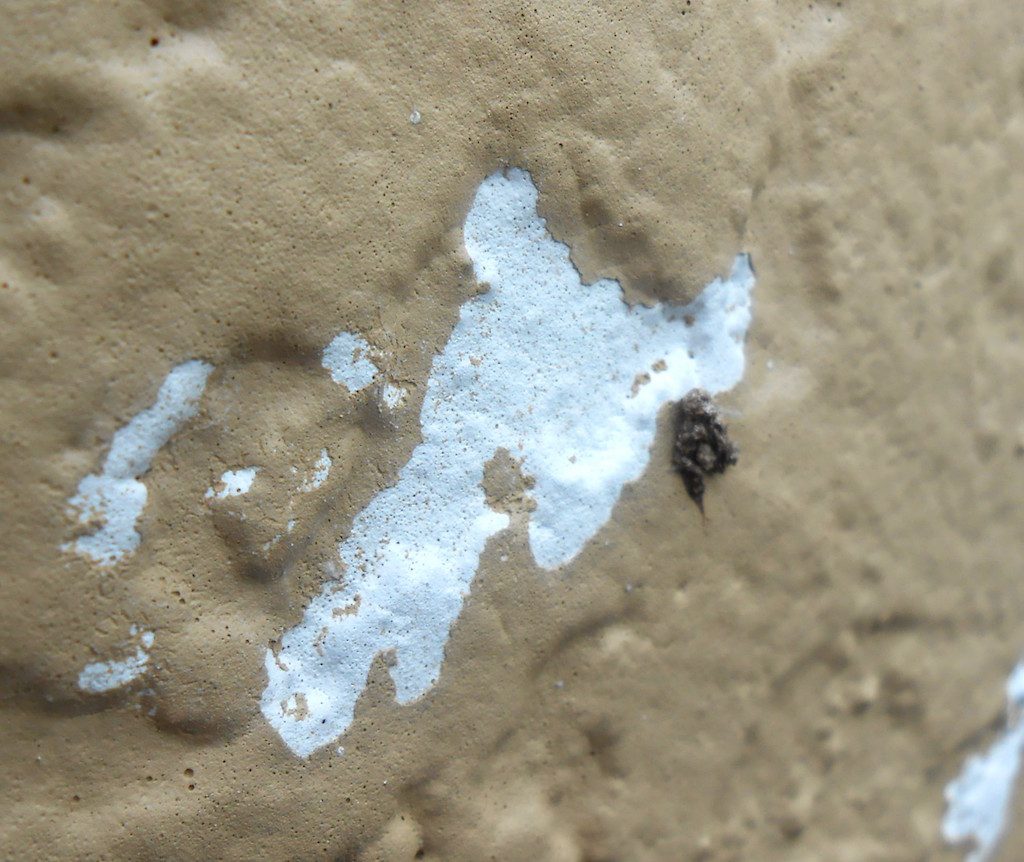 Hold Your Breath
What were we looking at? Turns out the objects were the excrement of some small animals, colored with paint pigment. But how could this be? Could the painting contractor actually have painted over this much debris? Not according to the consultant's records. These walls were thoroughly cleaned prior to any painting work being started. This residue problem had to have come after the painting was complete. There is only one practical way we know of to get paint pigment inside the stomach of an animal. It has to eat it. Then the undigested remains would be excreted in the animal's waste product. This might explain what had happened and exactly what we were seeing. Armed with this information, we hunted the wall surfaces, the soil below and the bushes adjacent to find the culprit animals. Bingo, we found some small snail shells! Could this be the culprit?
Could snails be depositing pigment-laden waste to the walls adjacent to the damaged areas? This stuff was full of undigested paint pigment. It was completely embedded within the excrement of snails that had traveled across these walls, stopping only for a meal, and to relieve themselves along the way.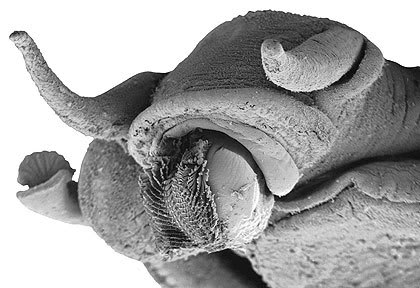 The Hunt Continues
Paint damage oddities in your life? Contact us for an investigation. 
Footnotes