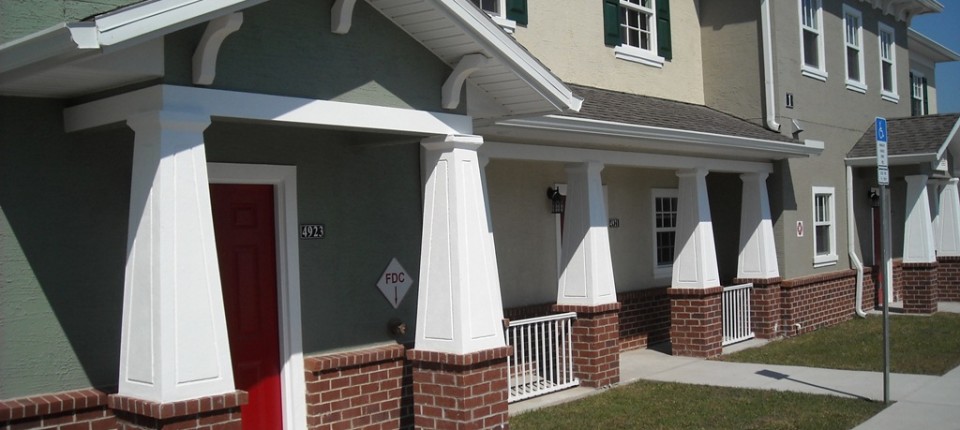 Firm's Responsibility:
LEED for Homes Certification
Start Date:
January 2010
Completion Date:
March 2011
Estimated Cost:
$ 6.2 Million
Reference:
Mr. David Iloanya, Director of Real Estate Development
Tampa Housing Authority
In January, 2010, Tampa Housing Authority started construction on Moses White Apartments, an Affordable Housing Development in North Tampa, comprised of 69 units in 17 buildings totaling approximately 88,000 sqft. This was a "shovel ready" project, granted special funding through the American Recovery and Reinvestment Act. The project was successfully completed in March of 2011, and awarded LEED for Homes Gold Certification, making it the first and largest Public Agency development in the State of Florida to earn such a designation.
Ivy Group Consultants served as the client Liaison between Tampa Housing Authority, E3 Building Sciences (LEED for Homes Provider), HADP Architecture (Project Administrators) and the other Architects, Contractors and Engineers involved in the project. To help achieve LEED Certification, Ivy Group guided the client and project members through the LEED process, reviewed and updated specifications, coordinated inspections and completed and submitted documentation to the USGBC.
HADP Architecture served as the Project Administrator for the finalization of design, bidding/award and construction administration. RGA was the Architect of Record for the project. Ivy Group Consultants and HADP Architecture also provided specialty waterproofing consulting, ensuring the highest quality exterior envelope systems and commissioning.
The project has become a stellar example of resource Efficient and Environmentally friendly Affordable Housing in Florida!