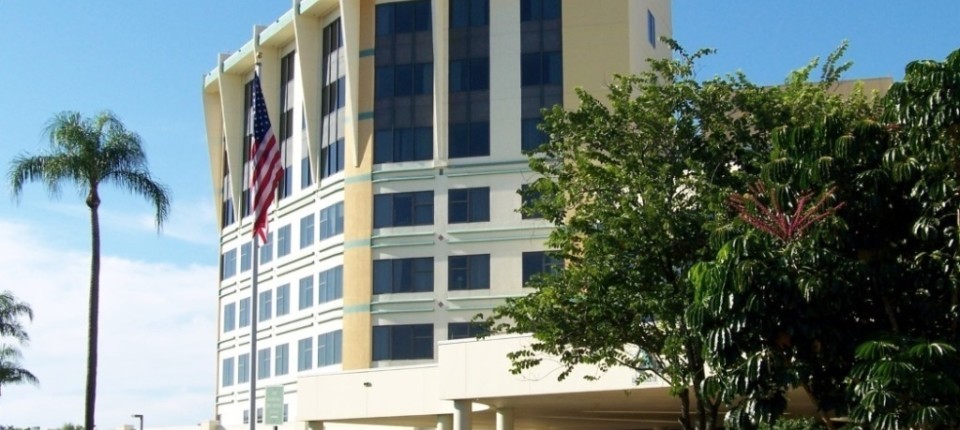 In August of 2008 Lee Memorial Hospital System hired the firm of Ivy Group Consultants, Inc. the sister firm of HADP Architecture, Inc. (now owned by HKS, Inc. of Dallas TX) to work as the Hospital's Architectural Forensic Consultant. The scope of work was to investigate exterior wall leakage and damage resulting at the Health Park Medical Center and to assist in expert reporting and testimony in the legal case involving multiple issues.
The 750,000 sf acute care facility began having moisture related intrusion in 2005 as the $53 million dollar additions and alterations were nearing completion. Repairs at that time appeared to correct the problems related primarily to window and curtain wall leakage. In 2008 problems with the solid stucco wall systems began to become evident, more leakage began to occur on a regular basis, but this time coming from the solid stucco curtain wall system. Ivy Group Consultants began the investigation and analysis of the conditions leading to the moisture intrusion.
Ivy Group Consultants, Inc. performed water testing and investigations of the wall systems on multiple levels of the Hospital in accordance with ASTM E 2128. Ivy Group Consultants brought in the firm of Interior Environmental Technologies (IET) for the interior investigation using thermal imaging photography and sampling microbial growth within the exterior wall systems. Laboratory testing confirmed microbial growth with species of concern. The team is working with the Hospital in remediation planning and designing a re-cladding project to permanently correct the moisture intrusion conditions. The Ivy Group also worked with the Hospital in specifying and interim waterproofing solution to the ongoing problems while the related legal issues are settled so that the re-cladding project can proceed.
Ivy Group is the Building Envelope Consultant and performed all project design for HADP Architecture on the repair specifications, construction documents and construction inspections.
The project settlement of $12.5 Million allowed for the re-cladding project, Ivy Group was instrumental in the settlement and serves as Re-Cladding Consultant to LMHS.